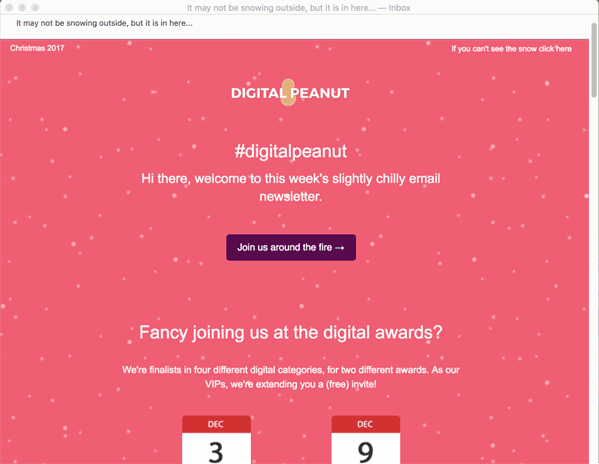 Email Design With Falling Snow
It seems so simple, but it took a lot of development to make this 'falling snow' email work.
It uses a solid background colour (that's the easy bit), with several snowflake images that use some special CSS trickery to move the snowflakes across the screen, in a seemingly random order.
The gif above is looped, so you may see the snowflakes jump, however the real email is completely seamless and the snowflakes fall perfectly…forever.
You can have these falling snowflakes in a single section within your email, or covering the entire email like our design above.
Why stop at snowflakes? You can change them to hearts for Valentine's Day, broom sticks for Halloween or maybe Easter Eggs for Easter. You get the idea.
Purchase this template
Have this template delivered to your inbox by the end of the next working day after purchase.
Please note a small number of email platforms will not display the snow animation, due to limitations with those platforms. The rest of the email will still render correctly.
£89.00