Google Optimize is the latest product to come out of the Google factory. But what does Google Optimize do? And equally as important, what will happen to Optimizely now there's a free version of its tool around?
What is Google Optimize?
Put simply, it's a tool from Google that lets you create variations of pages on your website, to test the difference in user performance each version has.
Let's use an example scenario to better explain what Google Optimize can do:
'Marmaduke's Dog Collars' has a picture of a Poodle in a beautiful collar in the banner on their homepage. They're not sure if a picture of a Retriever will reduce the number of people who bounce away from their site when they see the banner.
Option 1 – Make a note of your key metrics (or just add an annotation in Analytics), replace the banner completely, then check your metrics in a couple of weeks.
Option 2 – Install Google Optimize and set up a test on a certain amount of your audience (for example to 20% of your visitors) that shows your old banner to 50% of those, then the new banner to the other 50%.
Option 1 is a manual process and if people really aren't taking a shine to the Retriever image, you've risked a higher bounce rate on your entire audience. That equates to lost revenue. However, option 2 is virtually risk free. You can pause the test at a flick of a switch, but it also automatically generates insights in Analytics to show you the difference each version has had on your key metrics such as bounce rate.
Another example use of Google Optimize:
'Chums Dog Foods' is sending 'Marmaduke's Dog Collars' some traffic from their site. They've kindly put a link from them to Marmaduke's. We want to show them a special "CHUM10" 10% promo code when they land on our site.
Complicated? Nope. Google Optimize can be setup to show a completely different homepage to visitors who have come from the Chum website. This variant homepage can show the "CHUM10" code, whereas all your other visitors see your regular homepage.
Google Optimize Key Features
A/B testing
Multivariate testing
Edit font families, font sizes or font colours
Adjust element heights and widths
Change or add background images
Change or add regular images
Edit element positions including alignment (e.g. left, center, right or top, middle, baseline)
Edit text
Edit all HTML code
Insert new HTML code
Run Javascript
That's a brief summary, but the flexibility from this tool is incredible. Better yet, it's completely free!
What will happen to Optimizely now Google Optimize is around?
Let's be clear. Optimizely is a paid bit of software and they do way more than Google Optimize. The technology behind Optimizely is also eons ahead of Google's version. For the small business or maybe even SMEs, Google Optimize may well do the trick. For larger companies with more traffic and the requirement to test larger parameters or create large numbers of variants, that's where Optimizely comes in. Go take a look at the Optimizely website and pay careful attention to the wording and images they use in the banner.
This is what we saw at the time of writing this blog post.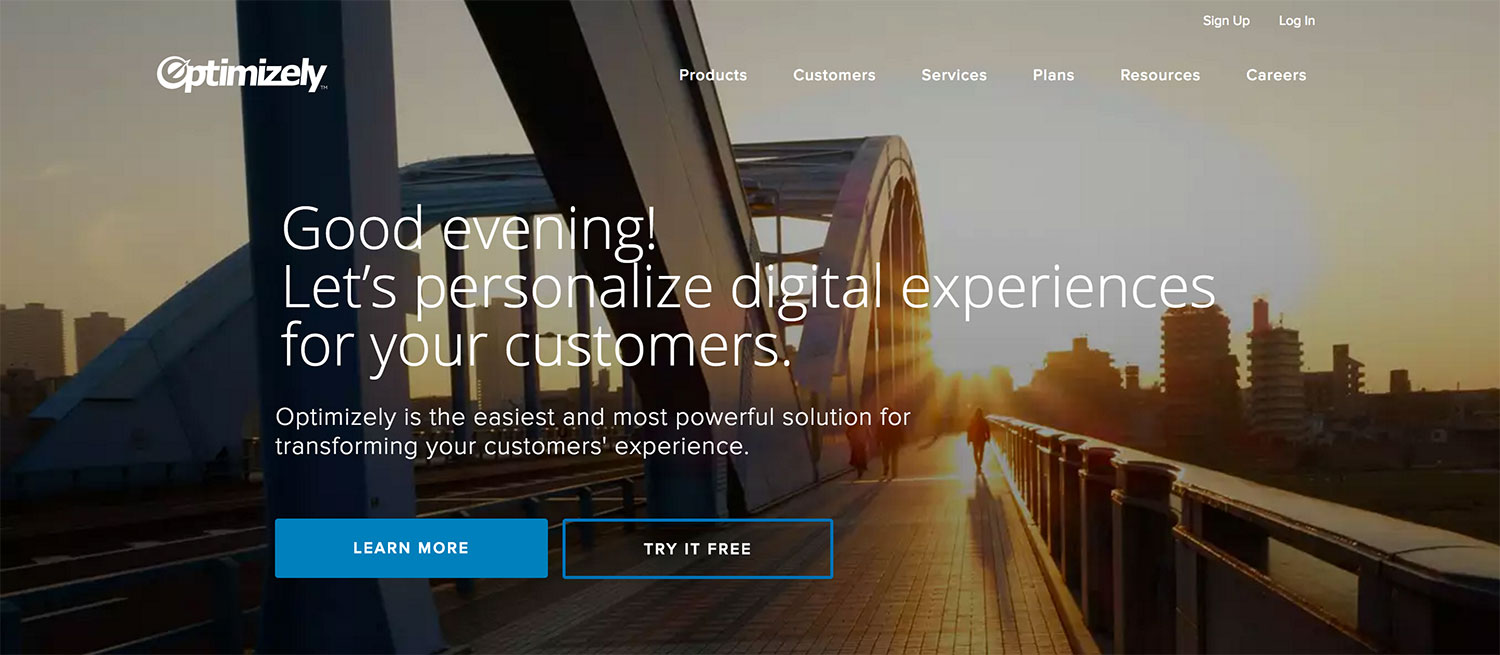 Yep, it was evening. The wording mentions "digital" which is relevant to our interests and further down the page they name drop some of their big clients that are also relevant to us. Our only criticism (we're being pretty picky here, we were very impressed with what they did on this landing page) – "Personalize" is USA wording, and we know their technology would detect we're in the UK based on our IP address.
That's just a snippet of what they can do. The segmentation and targeting behind making that work is far more advanced than what is available from Google. The insights and reporting from their version is also much more intuitive and easy to follow, particularly if you're not completely in tune with how Google's reporting suites work.
So in summary, we don't think they have anything to be concerned about. The companies buying their services aren't trying to cut costs and find free alternatives – They need a powerful system to give them any kind of customisation their imagination can muster up. No doubt there are some nervous board members over there right now, but we think they hold a different space to Google's version, making them safe from this launch. Another important thing to mention is that they're offering a free trial on "Optimizely X" which I'm sure we'll give a whirl soon and report back on our findings! Still, this helps them stay competitive against Google by doing this.
Want to test different versions of your web pages to your visitors? Our team are fully trained to install, setup and test Google Optimize and can get your tests moving very quickly. Get in touch to see what we can do for you, or read a bit more about our Digital Optimisation.